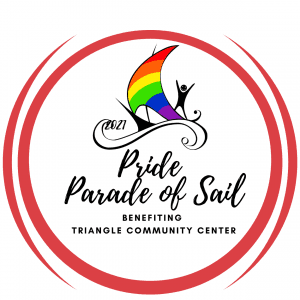 Be a part of a spectacular day on Long Island Sound for sailors, boaters, and the LGBTQ and ally community at Pride Parade of Sail 2021! All proceeds from the event will benefit the Triangle Community Center.
Date: Saturday, June 12 (rain date on Sunday, June 13)
Time: Parade will start at 11:30 AM
Vessels will rendezvous between Peach Island and Norwalk Cove Marina, sail to the Maritime Center and Calf Pasture Beach, and then out to Sheffield Island for a celebration and Lobster Bake.
Schedule of Events:
11:30 AM – Vessels assemble, raise Pride Flags, Greet VIPS joining the Parade
12:30 PM – Parade will head towards Norwalk Maritime Center, led by lead Captain
2:00 PM – Vessels arrive at Sheffield Island and anchor. Those individuals with a ticket to the lobster bake will be able to dinghy ashore.
3:00 PM – Lobster bake at Sheffield Island (limited tickets)
6:00 PM – Event concludes and vessels depart
Don't have a boat? No problem! VIPs are guests of participating Parade boaters and enjoy the Lobster bake at Sheffield Island. Purchase "VIP Guest" ticket to the right.
Have a boat and would like to join for the parade? It does not cost anything to join the parade! Simply sign your boat up on the right under "Boater Registration".
If you have a boat and would like to join us for the lobster bake, please register your boat AND purchase tickets labeled "Lobster Bake for Boaters and Sails" to the right.
See you all out on the water!